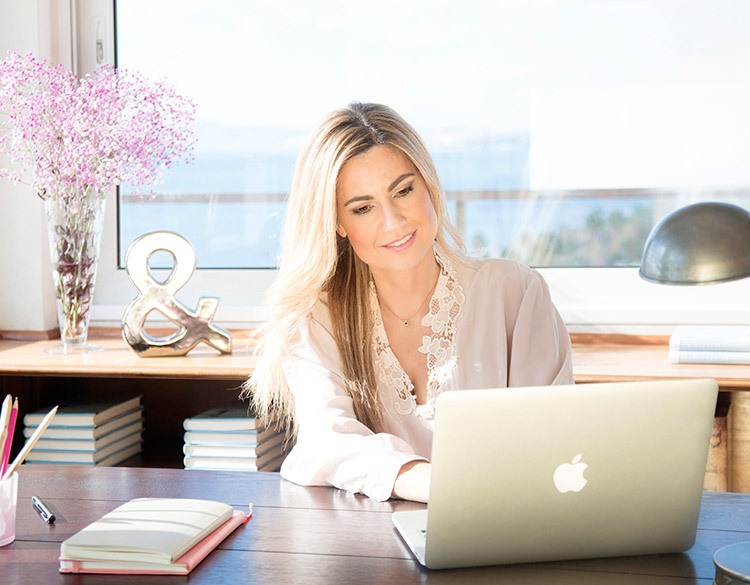 Coach Mina
The relationship I build with my clients is based on my understanding, that each person is unique and special.
I adopt the loving principle that says,
" What do you think and feel is normal for you based on your consciousness, life experiences and your childhood programming. The acknowledging and validation of these parameters is our starting point. Together we learn, to love and accept ourselves for who we really are and we create endless possibilities …"

Title
YOUR COMMENTS
I couldn't find a man with the traits I was looking for until I met Mina. I believed I would never find the man of my dreams in Greece. Within three months I met my ideal partner and found perfect happiness.

– Annita
If you were to ask me to describe Mina in one phrase, it would be "deus ex machina". Mina appeared in my life twice this far; and both times were times of great transformation. In both cases I worked with Mina, I was in a place of great fear. The first time I was stuck in an unhappy marriage for years and the second, in a very unhealthy relationship. With her guidance and our work, Mina helped me stand on my own two feet again, overcome my fears, find the strength to make the right decisions for me and to accept and love myself in a deeper and more meaningful way than ever before. She has helped me find myself again and be the happy, fulfilled, and confident person I used to be, and I couldn't be more grateful.

 – Mina
I visited Mina driven by my relationship which I thought it was the reason why I had lost my spirit, energy and positive attitude. Very soon I figured out that Ι myself was the reason for this! Mina helped me love myself and change my perspective. Twelve sessions later my life changed completely. I have a wonderful relationship with my partner, my daily life is very pleasant and I am full of dreams I fulfill! Thank you, Mina

– Margarita
I started having coaching sessions with Mina during a very stressful period of my life. I wanted to make major professional changes and I needed to focus on my personal development. During these five months I managed to set professional goals, to overcome fears, as well as to be calm, happy and extremely confident!! Mina truly inspires you to become the best version of yourself! She's defined by professionalism, love for her work and positive attitude for life. I will always be grateful to her because she taught me how to maintain an optimistic outlook of life!

– Anastasia
Coaching changed my perspective on my life! I wish everyone could make it a part of their life and realize they are able to become the ideal version of themselves just like that! After working with Mina I gained confidence, I loved myself, I brought out my femininity and for the first time in my life I shaped my body the way I had always dreamed it to be.

– Irida
Working with Mina served as a catalyst for all my negative internal reactions. She helped me change frequency, dare to try, see the lesson through difficulty. I changed and then everyone and everything changed. I remember how hard we laughed when she asked me "what are you willing to change?" and I replied "everything you suggest I should change".  I trust and I love her so much.

– Dimitra
I was in a process of developing myself and felt that I needed guidance to set new goals and make changes to create new standards for my career.  I initially thought that I was not strong enough to make a change but Mina helped me to identify my strengths in a constructive and meaningful way. With her guidance I got to appreciate myself for what I had managed to achieve and I now have a clear goal to which I stick to everyday. I have since then received tons of appreciation and I have been offered many new opportunities to develop further. Thank you Mina!!

– Elena
Mina has you from the very first moment you meet her. She has a sparkling personality and makes you feel you know her for years. She's very trustworthy making it easy for you to open up and unburden yourself. Her smile carries you away and you return that smile to yourself and everyone around you. Meeting Mina served as a catalyst for my development and self-realization. Today Ι am able to say that I reintroduced myself and that I'm becoming the best version of myself on a daily basis thanks to her advice and techniques. With her guidance I faced my fears and today I am calm, optimistic and I have faith in life! I love myself deeply and I trust my own strength. I don't seek recognition from other people because my value is nonnegotiable. Mina helped me achieve my professional goals and now I reap the benefits of the work we did together. I feel creative and happy. My relationships are qualitative and meaningful. In my life I receive and express what I feel. I am deeply grateful to Mina and I am thankful for having a very good friend besides having a coach. Working with her is really the best gift I have ever given to myself. Mina, thank you from the depths of my heart for that self-discovery journey. I know that with your guidance I will achieve everything that seems impossible.

– Erato
There are women who before getting married and having children, were dynamic, decisive, self-confident, felt in love in their intimate relationship, relaxed and were smiling. This was my story until many changes occurred, such as the resignation from my job and moving abroad with my family. The above mentioned, made me lose myself, lose the relationship with my husband and my children did not recognize me. So I needed someone to remind me of who I am at my core, lead me to that and more important to guide me to love myself! "Thank you very much for this"

– Mary, Mother of Two Children
I decided to seek for relationship coaching because of the difficulty I had in finding a partner that was suitable for me. After three months of cooperation with Mina the following happened: I was relieved from my insecurities and now I love and accept myself as it is, while I met a man with whom the communication and the relationship are finally beautifully flowing, without any cope. I thank Mina for this, through my heart!

– Angela, Private Sector Manager
Mina was referred to me by a close friend of mine in a transitional period of my life, when I was trying to make big professional and personal decisions. I could not imagine that in one session, I would be able to find solutions to issues that concerned me for so many years. Within three months, I made several positive changes in my life, which I have sustained until today. I have reduced my stress and the quality of my everyday life has improved, on multiple spectrums. Mina is a coach who, will constantly stand close to you, understands you perfectly, is very professional, she loves what she does (that is why she is successful) but mainly she inspires you to change your life, through her own example. She is always optimistic, full of positive energy, and she is herself on a daily basis, an example of the effectiveness of the coaching practice.

 
When I started working with Mina I did not have confidence in my personal life. Her coaching techniques, focusing at specific elements and proposing baby steps to take action, literally lifted my energy level and gave me wings to pursuit my dreams. I was able to disconnect from relationships that did not serve me and I have attracted a deeply loving and honest relationship, full of light and attraction, for which I am grateful for! It is a complete privilege working with Mina. The last months I feel being the creator of my own life and have moved from feeling "victim to victory"!  I'm sure there are much more victorious moments coming up, blessed by her precious insights.
When I met Mina, my self confidence in my intimate relationship was very low. I felt anger and sometimes as a victim. By making baby steps from one session to the other, progressively  I experienced a tremendous positive change in my relationship.  I was able to bring out more my female energy; I improved my communicational skills and have developed a deep understanding of my partner 'needs.  Instead of arguing, my relationship is now full of love, calmness and understanding. Our moments of joy, have become our everyday reality in our relationship! Mina, I thank you very much!!!! You're great at what you do and you have to continue doing it.
My journey with coach Mina began, having a low self esteem and not feeling confident. Throughout this personal development process, this journey became an enjoyable and inspirational journey,  that everyone wanted to follow. It made me realize how strong I am and how happy I can be. I realized how my energy can affect positively my friends, family and colleagues. I feel wise, strong and calm. Throughout my coaching sessions, I fell in love with the things I realized I am and the things I realized I can be. I accepted myself for who I truly am and then accepted others, for who they are. I finally have attracted a loving, caring and respectful partner in my life, with whom I am happily married. I am sure this unique journey has no end, only successful & surprising destinations!
When I met Mina, I was in a state of great disappointment and felt pessimistic. I had many negative thoughts, confusion and anxiety about my future. Back then I can describe myself as a sad person, having unfulfilling love relations; I experienced also unfulfilling relationships with my friends and my family, communicating with them mechanically. In my work, I felt constantly trapped and not good enough. When I started the coaching sessions, gradually my feelings changed. I started feeling strong, optimistic, self confident and realized that I am worth it! The most significant change for me is the love and acceptance I started to have in all of my relationships. I regained my female radiance; I started dating and I have become a confident woman. I feel grateful for all I have in my life. I live in the moment and see my future with optimism.
I came to Mina when I was emotionally disconnected from men. Mina helped me to regain my female energy and my self confidence has become one of my strongest attributes. I feel happy and fulfilled everyday and I have let go of the need and insecurity to be with a partner. Her coaching experience helped me, to focus on a goal and achieve it; I acknowledge all of my achievements, even small things that I manifest on a daily basis, which I would never notice in the past. I am reconnected to the dating process and have a stronger sense of what men want and value. Mina taught me, why I am valuable to men and I have a strong and deep awareness for who I am. Attracting men and being in a healthy and loving relationship is now a conscious choice for me.
LEAVE A COMMENT
Fields marked with an asterisk (*) are required. Your e-mail address will not be published.